Just when I thought we'd escape Chicago with one win our bullpen imploded and we were left with an ugly 4-game sweep and a 6.5 game deficit in the AL Central. Enough Twins news for today... on to something more important.

Ask any boy (now man) between the age of roughly 19-26 who there favorite baseball player was growing up and you're very likely to receive the same answer: Ken Griffey Jr. I know Junior was certainly my boyhood hero. His status in my mind was so high that when my elementary teacher would ask me to write down my hero I felt guilty putting Junior when I knew I was supposed to put Albert Einstein, George Washington, or my dad.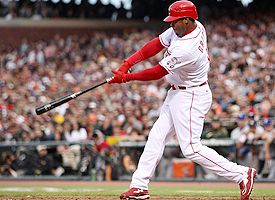 Anyway, yesterday Ken Griffey Jr. hit his 600th homerun joining an elite club of five other members: Barry Bonds, Hank Aaron, Babe Ruth, Willie Mays, and Sammy Sosa. It's hard for me to not wonder what if and think that this 600th homer should really have been his 700th. And think that the despised Bonds' time as the Home Run King would be short lived with Griffey passing Barry in the next three years; however, Griffey's illustrious career was sidetracked by injuries and for us devoted fans we'll simply have to always wonder what if. But for now.... we must just enjoy Griffey's accomplishment.



For complete coverage on Griffey's 600th, check out MLB.com The Natural. Look at the photo archive from "The Mariner Years." For any more proof of Griffey literally being "The Natural" during the steroid era look no further than the picture of Griffey and Mark McGwire at the 1998 All Star Game.

I really enjoyed this article by ESPN's Tim Kurkjian, remembering the breathtaking Griffey.