As the first unrelated Minnesota Twins post on this blog, this post is somewhat special or unique. I wrote this article for another online baseball publication and since Ken Griffey Jr. was my favorite player growing up as a kid along with nearly every other kid my age I thought I would publish it.

In case any of you baseball fans haven't noticed, Ken Griffey Jr. is approaching a milestone. With his 597th career homerun today against the Houston Astros, "the Kid" is set to join an elite club that contains only five members: Barry Bonds, Hank Aaron, Babe Ruth, Willie Mays, and Sammy Sosa.

Maybe it's just me, but I feel like Junior isn't getting the love he deserves. Yeah, now ESPN has the Junior graphic and is beginning to flash to his at bats, but 600 homeruns is a big deal. It makes me wonder if Griffey's pursuit at 600 has gone silent because of the lack of controversey in his homerun total.

I can only speculate (but can do so with 100% confidence) that Barry Bonds and Sammy Sosa achieved 600 career homeruns partly due to the use of performing-enhancing drugs. Ken Griffey Jr. is the poster boy of how to play baseball the honest way during the steroid era of the 1990s and 2000s.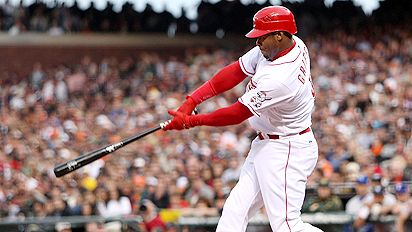 Perhaps it's because of all the injury shortened seasons or the fact that he has played on losing teams in Cincinnati, but many have forgotten the days when Ken Griffey Jr. ruled the world of baseball. He was a perennial All-Star, a Gold-Glove outfielder, a fan favorite across the country, and a member of the All-Century team.

Griffey was not only in pursuit of the single season home run record year-in and year-out, but was on pace to pass Hank Aaron and become the homerun king. Tragically, in his eight years with the Reds, Griffey has played in more than 140 games only twice and from 2002-2004 played a total of only 206 games.

As a kid growing up in the 90s, Griffey was my hero. I wore the cap backwards, played the video game, and even wore his sneakers. He certainly is not the player he used to be and we can always wonder where he could have been if he stayed healthy.

A few things are for certain: Griffey will be in the Hall of Fame, Griffey plays the game the way it should be played, and Griffey will hit his 600th homerun very soon. When he does, let's give him the love, respect, and appreciation he deserves.