As a blogger, I feel it is my duty to sometimes say what people are afraid to say or don't think about. Because bloggers are "journalists" with no editorial or contractual commitments we have the luxury to freely speak our mind and say whatever ridiculousness we want. And with the spirit of election season I'm going to start my campaign: Twins 4 (Matt) Holliday! Pretty ridiculous huh?
This past June during the season I wrote a post about
why I thought the Twins should trade for Adrian Beltre
of the Seattle Mariners. At the time this move seemed pretty ridiculous to other Twins bloggers and fans but to me really seemed to make sense. This potential trade was perhaps out of the normal realm for the Twins but seemed to make sense both as a good fit for the team and a trade with true possibility. Today the Beltre rumor is regarded as a true possibility for the Twins.
Now I'm not trying to say I told you so or that I have all the answers because I also thought that
the Detroit Tigers would defeat the New York Mets this year in the World Series
. But today I'm straying away from a rumor that is both a good fit for the team and a plausible reality. This is one of those rumors that although may be very far from plausible is a great fit for the team and makes you wonder... what if? It's one of those ridiculous rumors.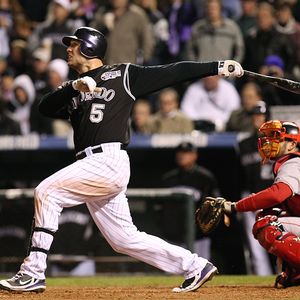 The 28-year old leftfielder is entering the prime of his career. He's a righthanded power bat (which is exactly what we need) who hit .321 with 25 homeruns and 88 RBIs in 2008. The 6'4'' 235 lb slugger even stole 28 bases last year. That would put him 2nd in SB behind Carlos Gomez for the Twins. Plus, imagine the right hander hitting in the cleanup role, sandwiched between fellow All-Stars Joe Mauer and Justin Morneau. Dangerous!
So as I argue, Holliday would be a great fit for this team that could be the missing piece with a healthy bullpen to take this team to the World Series. Now what would we have to give up to get him (besides money, we'll get to that!)...
In my head I'd like to believe a package of D.Young/D. Span/G.Perkins would be enough. Perhaps, a Boof or a P.Humber would have to be included because the Rockies desperately need arms. This may seem like a lot, but Holliday would be three times more valuable than Young in leftfield and I personally think given Span's minor league track record there may never be a better time to trade him. We would definitely miss his leadoff ability and his defense, but Holliday is an upgrade defensively over Young and Cuddyer in right isn't too shabby. Throw the speedy Gomez, who caught more balls than anyone last year, in between Holliday and Cuddyer and the Twins have a very solid outfield defense. As Brett noted in his Matt Cain rumors, I think Perkins would be expendable and could be replaced with another arm.
However, the Denver Post says that Colorado is looking for an elite pitcher in return. We may not have "an elite pitcher" to trade but I don't think the Rockies will get that from anyone because they aren't going to trade Holliday to San Diego for Jake Peavy. So another possible package could be K.Slowey/D.Young/P.Humber. The Rockies would get two young arms and a great arm in Slowey (although his flyball rate could be dangerous in Coors Field) and get a young back with potential in Delmon. Slowey would be a big loss for the Twins but we could either move Boof back into the rotation or would still have an extra outfielder in Span or Cuddyer to move for pitching or middle infield help.
Here comes the part of the deal that makes this rumor ridiculous. If you think my trade package to the Rockies seems impossible and that Colorado will never take it, you must realize that Matt Holliday is entering his final year of his contract and if traded will probably require a multi year deal of roughly 5-years for $90-100 million. Do the Twins have that kind of money??? I believe they do, but it's a question of whether or not they will spend it. The deal would beat Morneau's franchise record 6-year of $80 million. But what a better way to make a run for the title in 2009 and enter the new ballpark in 2010 built around a core of Mauer, Morneau, Holliday, Nathan, Baker, Liriano, Blackburn, Gomez, and Casilla.
So as I said, because I have no editorial or contractual commitments I'm going to start this ridiculous (but smart) rumor and get those little ideas planted in your head. Just think about that potential lineup next year? And on November 4th vote:
Twins 4 Holliday!